Swoop is a performance advertising provider based in Cambridge, MA, that focuses on bringing cost-effective, low-funnel engagement with real consumers to pharmaceutical and automotive advertisers. Originally born as an extension to search campaigns, Swoop can integrate both search and display advertising campaigns in a manner that provides marketing executives with the highest-quality, best-converting traffic of in-market auto buyers and potential patients and HCPs.
With a dedication to doing things in ways that work rather than slightly-more-efficient ad arbitrage, Swoop understands that all advertising must benefit three customers: the advertiser, the publisher, and the reader. Heavy investment in real-world data sources and intelligent machine learning allows us to cater to all three customers in a way that is unique, powerful and transformative.
Swoop is the first real new development in online advertising in years. Unlike the plethora of ad tech companies trying to more effectively bid on IAB slots, Swoop dynamically creates ad slots throughout a publisher's content, making informational articles as well-targeted as search engine results pages.
The Swoop Founders
Digital advertising is in a difficult place: decades of crappy ads have led users to ignore or block advertising, publishers are losing out on over half of ad spend, and advertisers continue their quest for more relevant traffic. Hear from Swoop founders Ron Elwell and Simeon Simeonov why they created Swoop to bring search advertising to publishers and make the Internet better for users, publishers and advertisers.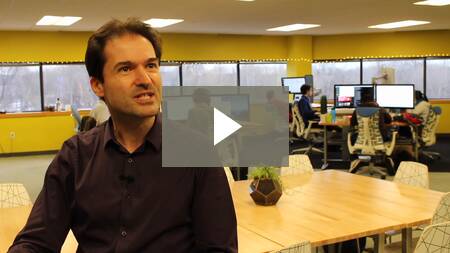 Ron Elwell, Founder & CEO
Ron brings an extensive background in high tech and online media to his role as CEO and co-founder of Swoop. His background includes Goal.com, the premiere online soccer media company, where he served as CEO; Bessemer Ventures, where he acted as partner and led numerous investments in advertising, wireless and new media; and Octave Communications, where he served as CEO.
Simeon Simeonov, Founder & CTO
Sim brings years of experience as a founder, investor and tech executive to his role as CTO and co-founder of Swoop. He has been involved in founding companies such as Ghostery, Thing Labs and FastIgnite, has sat on numerous Boards of Directors, and is generally recognized as a leading voice in digital media and artificial intelligence.
Cindy Smith, Chief Financial Officer
Cindy has more than 20 years of finance and operational management experience focused on growing companies and has been CFO for a variety of VC-backed high-tech startups.
Scott Rines, Chief Revenue Officer
As Swoop's CRO, Scott serves as the primary driver of new advertisers. He has a strong sales background, serving as Catalina Marketing's SVP of Business Development and Government Solutions Group's CRO before joining Swoop.
William Powers, EVP, Strategic Development
Swoop's impressive stable of endemic health and automotive websites can be attributed to the work of William, who brings his extensive sales experience to the publisher recruitment side of the business. Prior to Swoop, he was the SVP of Sales at Traffic.com and the Chief Sales Officer at Access 360 Media.
Daniel Ruby, VP, Marketing
Daniel brings years of experience building marketing departments at tech startups to his role as Marketing VP for Swoop. In his career, he has been the first marketing hire for a half dozen companies, including one Google-acquired cloud monitoring company.
Kevin Elwell, Director of Account Management
As Director of Account Management, Kevin is the primary point of contact for Swoop's biggest advertising clients. Before joining Swoop, Kevin worked in the agency space, overseeing campaigns for high-visibility national clients like McDonald's.