---
Swoop is a search advertising provider based in Cambridge, MA, that brings search spend to publishers, a new selection of biddable search terms to advertisers, and a new, more pleasant reading experience to the millions of Internet users who have become ad-blind due to the constant exposure to more and more annoying and invasive advertisements.
By finding search queries within publications, Swoop can provide advertisements that are targeted as accurately as those on search engine results pages (SERPs). Combined with our unique ability to create ad slots at will within content, this allows us to provide ads that convert at an extremely high rate for a very reasonable cost-per-action (CPA). Because the dynamic ad placement inserts ads where users are most likely to be receptive, much like a SERP, the experience is familiar and smooth for consumers and effective and valuable for advertisers and publishers.
Swoop is the first real new development in online advertising in years. Unlike the plethora of ad tech companies trying to more effectively bid on IAB slots, Swoop dynamically creates search ad slots throughout a publisher's content, making informational articles as well-targeted as search engine results pages.
The Swoop Founders
---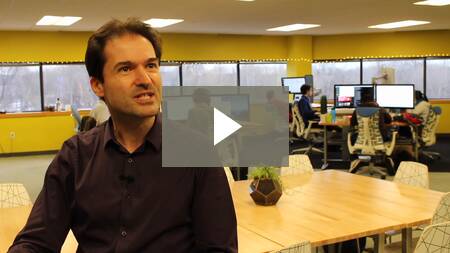 Digital advertising is in a difficult place: decades of crappy ads have led users to ignore or block advertising, publishers are losing out on over half of ad spend, and advertisers continue their quest for more relevant traffic. Hear from Swoop founders Ron Elwell and Simeon Simeonov why they created Swoop to bring search advertising to publishers and make the Internet better for users, publishers and advertisers.
Our team:
---
Jason Nicholas
Analyst, Account Management
William Powers
EVP of Strategic Development
Mende Williams
User Experience Lead
Ron Elwell
Founder & CEO
Tonia Hawkins
VP Sales, West
Daniel Ruby
VP Marketing
Sim Simeonov
Founder & CTO
Roman Kishchenko
Software Architect
Scott Rines
Chief Revenue Officer
Ashley Kim
Junior Design Engineer
Kurt Robinson
VP, Sales
Katie Carr
VP, Sales
Gary T. Curtiss
Vice President, Strategic Development
Shannon Rock
SVP, Search Advertising Sales
Nina McGeehan
Controller
Jessica Peterson
Analyst, Account Management
Ellie Ryan
Analyst, Account Management
Yevgeny Popkov
Principal Data Scientist
Andres Corrada-Emmanuel
Head of Optimization
Peter Martel
Software Engineer
Kevin Elwell
Director of Account Management
Mark Bell
Software Engineer
Tony Sherry
Vice President, Regional Sales
Sean Stevenson
Vice President, Regional Sales
Greg Lu
Software Engineer
Investors
---
U.S. Venture Partners (USVP) has helped build great companies for three decades. Since its inception in 1981, USVP has invested over $2.7 billion in about 450 companies. Throughout, USVP's partners have worked diligently and consistently with early-stage companies, many of which have become industry leaders.
Advisors
---
Michael is one of the most experienced and successful AdTech Executives in the industry. From his pioneering days as the CRO at GeoCities, to CRO of Yahoo, to the CEO of AdMeld, acquired by Google, Michael has been at the forefront of the evolution of the digital marketplace. His insights into the future direction of monetization of the digital world have made him one of the most sought out executives in the space.
For the past two decades Shannon has led engineering teams in the development of new and creative technologies, all designed to assist the consumer. An early pioneer in mobile with AOL, Shannon continued his career with Google, where, among other successes, he opened up the Google's London operations, ran engineering efforts in EMEA, and ran Google's display ad team. Shannon continues to be one of the leading voices for improving the user experience within the advertising space.
Steve has one of the most impressive track records in the industry when it comes to scaling digital advertising businesses. As the COO of Advertising.com he was responsible for building one of the first ad networks in the world. Steve continued to build it after the acquisition by AOL. Steve then moved to Millennial Media as COO where he was responsible for building the largest independent mobile ad network. He remains actively involved with high growth companies, assisting them in scaling operations.
Suzanne brings a wealth of experience and insight into the marketing of products and services to consumers. Suzanne spent 10 years at Procter & Gamble, where her last postion was to lead the brand building and marketing for the four billion dollar fabric care portfolio that included Tide, Cheer, Era and Dreft. She was also the SVP Global Sales and Marketing at GoPro.
The former director of the Bureau of Consumer Protection (BCP) at the Federal Trade Commission (FTC), Lydia is a highly regarded privacy expert. As director of the BCP, one of the FTC's two law-enforcement bureaus and the nation's only federal consumer-protection agency, Lydia oversaw data security enforcement efforts and the development of the FTC's approach to online advertising.
Lydia currently advises companies on how to maintain the highest standards for the collection, protection, and use of consumer data while pursuing their business interests.
Ed leads Engineering and Product Development for Evidon, the leading digital advertising privacy compliance platform. Before joining the company, Ed was Vice President of Engineering and Product Management at Right Media, the first and largest online advertising exchange. When it was acquired by Yahoo! in 2007, Right Media was processing more than 8 billion impressions per day and supporting tens of thousands of businesses.
Mike Baker, President and CEO of DataXu the leader in programmatic marketing platform, has been pioneering digital media platforms for 20 years and is a widely recognized thought leader in interactive advertising. Before co-founding DataXu, he was vice president at Nokia, where he created and ran Nokia Interactive. Baker came to Nokia through its acquisition of mobile advertising leader Enpocket in 2007, where he was the founding investor and CEO.
Greg Martin is the founder and Managing Director of Archer Venture Capital.
Prior to founding Archer, Greg was a partner with Redpoint Ventures, a firm he joined in 1999. Previously, Greg was with Brentwood Venture Capital in Los Angeles.
Greg focuses on early-stage technology opportunities and has led investments in consumer internet, social media, mobile applications, cloud computing, business services, digital media and communications companies.